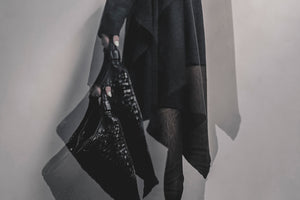 OUR STORY
NICOLA SCREEN STORE
Launched in 1990, Nicola Screen offers a meticulously curated selection of women's and men's clothing and curios of undefinable yet consistent aesthetic.
With a well-developed signature style and a passion for process, each capsule collection is designed for timeless functionality. Natural fibres are sourced in a palate of graduated black, its mysterious lack of colour complemented by desaturated neutrals, and created with a focus on garment washing and organic hand dying.
Having launched her label in 1990 in Wellington then going on to design eponymous label OYL, she has developed her own signature style capturing the synthesis between elegant simplicity and the spare beauty of industrial minimalism, each collection is designed for timeless functionality embracing the traditional, sustainable and ethical process of an atelier.
With an artisan passion for process each capsule collection is designed & made in house in limited quantities.
Today Nicola Screen is a destination store in Wanaka and Greytown, with a clientele throughout New Zealand of creative women who seek originality and individual style, her collections are available exclusively in store or online.