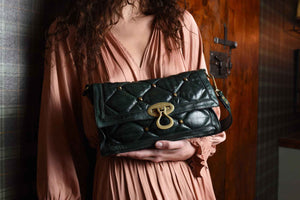 CAMPOMAGGI
Campomaggi bags are made using fine quality 100% Italian full grain natural cowhide, of indisputable quality and resistant to time and treatments.
CARING FOR YOUR LEATHER BAG
The leather used for Campomaggi bags is a particularly resistant cowhide. This sophisticated type of leather reveals veins and irregularities, even after being treated, thus appearing naturally authentic. The main feature of natural cowhide is that its beauty and shine improve over time.
USE THE KIT
Each Campomaggi bag contains a Cream Kit that will help you weatherproof it, protecting the softness of the leather and the uniqueness of the product.
The cream has been used for years to finish all brand accessories, and over time, its properties and slight perfume, absorbed by the leather, have become a distinctive symbol.
DO
Use the green cloth on the side without the logo.
Cowhide is a very easy-to-clean leather: just brush it with a damp cloth to bring out its colour and shine.
Store it properly, keep the bag in a dry place away from sunlight.
DO NOT
Do not allow the leather to come into contact with sources of moisture for a long time and do not use any type of detergent to clean it.
Do not use the cream on fabric and suede.
"Leather is a living material, its entire story is written on its surface."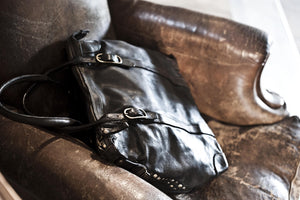 CAMPOMAGGI
All the work necessary to complete a Campomaggi bag to the highest standards of workmanship is rigorously carried out by hand, since it is the human ingredient that makes each object unique, original and not standardised.
Once the model has been built, the bag is subjected to the ancient vegetable tanning technique, a completely natural manufacturing process that uses the tannins contained in wood and vegetables, taken from trees such as the mimosa, chestnut, quebracho and oak.
The vegetable tanned leather absorbs the traces of experience. It ages but does not deteriorate. It is precisely the unique changes that occur over time and with use that testify to the natural nature of the product. The colours of the tannins bring intense tones and multiple shades to the leather.
Discover the latest Campomaggi collection at NICOLA SCREEN STORE in Wanaka or Greytown, or shop online.